Sonifex CM-ULX1
The Sonifex CM-ULX1 allows the connection of a stereo unbalanced line input on phono connectors to a balanced line output via 2 x male XLRs.
The Sonifex CM-ULX1 is transformer balanced, with a 1:2 ratio, so 6dB of gain is added to the input to help interface with the higher signal levels associated with professional outputs.
This unit is a passive version of the RB-UL1, and provides you with an alternative to wiring an unbalanced output directly into a balanced input.
By placing this box close to the unbalanced output (before the cable run to the balanced input), the connection will benefit from the input device's common mode rejection capabilities, reducing noise and interference.
Block Diagram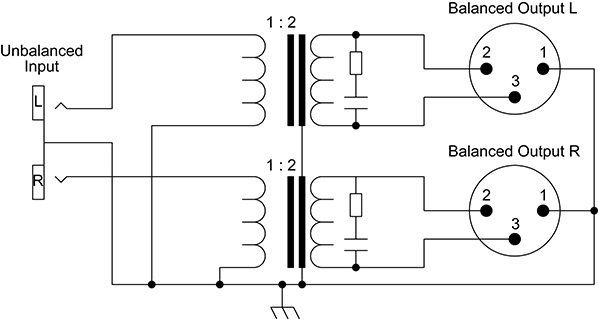 | | |
| --- | --- |
| Audio Specification | |
| Input/Output Level Ratio: | 1:2 |
| Input/Output Impedance Ratio: | 1:4 |
| Max Input Level: | +22dBu |
| Max Output Level: | +28dBu |
| Frequency Response: | 20Hz to 20kHz, +0/-0.5dB |
| Noise: | <-100dBu A-wgtd |
| Distortion Ref +8dBu (Output): | <0.02% |
| | |
| Connections | |
| Stereo Unbalanced Line Input (CM-ULR1 & CM-ULX1): | 2 x RCA phono connectors |
| Balanced Line Output (CM-ULX1): | 2 x male XLRs |
| | |
| | |
| Equipment Type | |
| CM-ULX1: | Unbalanced to balanced audio converter, XLR output |
| | |
| Physical Specification | |
| Dimensions (Raw): | 7.7cm (W) x 8.3cm (D) x 4.2cm (H) 3.0" (W) x 3.3" (D) x 1.7" (H) |
| Dimensions (Boxed): | 12.7cm (W) x 22.9cm (D) x 7.6cm (H) 5" (W) x 9" (D) x 3" (H) |
| Weight: | Nett: 0.22kg Gross: 0.33kg Nett: 0.49lbs Gross: 0.73lbs |
BW Price Guarantee
(Subject to conditions)
Tech Support
2-Year Warranty