Sonifex RB-DA24MD
24-Way Mono Audio Distribution Amplifier

The RB-DA24MD is a 1U rack mount high performance 24-way audio distribution amplifier. It has 2 inputs which can be each individually routed  to 12 outputs, or mixed and routed to all 24 outputs. The inputs can be configured as either dual mono, input 1 routed to outputs 1-12 and input 2 routed to outputs 13-24, or mixed-mono, inputs 1 and 2 mixed at a pre-set level and routed to all 24 outputs. When set to mixed-mono operation there are 3 different output mix level modes, enabled by altering internal jumpers, providing -6dB, -3dB or 0dB adjustment of the output.
The XLR inputs and D-type outputs are electronically balanced and can be wired unbalanced. Each output is individually buffered so that a short circuit on one won't affect the others. Each output is also protected against connection to both POE (power over Ethernet) and phantom power circuits.
The RB-DA24MD has master gain controls for both input 1 and input 2 which are pre-set potentiometers accessible through the rear panel. These controls allow the gain to be adjusted from -15dB to +15dB, useful for normalising consumer to professional signals and vice versa. An LED power indicator on the front panel shows that the unit is powered.
A 125Hz 6dB per octave roll off filter is activated by a push switch on the rear panel. When selected, the filter is the applied to both inputs.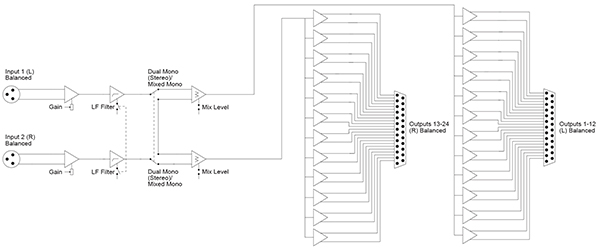 Technical Specification For RB-DA24MD

Audio Specification

Input impedance:
>20kΩ bridging (balanced)
Output impedance:
<50 Ω
Maximum Input Level:
+28dBu
Maximum Output Level:
+28dBu
Frequency Response:
20Hz to 20kHz ±0.1dB (600 Ω load, ref 1kHz)
Gain Range:
Adjustable -15dB loss to +15dB gain
Common Mode Rejection:
>66dB typically
LF Roll Off Filter                :
125Hz at 6dB/octave
Distortion:
0.01%THD @ 1kHz, red + 8dBu output
Noise:
-100dB unity gain, ref +8dBu output

Connections

Inputs:
2 x XLR 3 pin female (balanced)
Outputs:
2 x 25 way D-type plug (balanced, can be unbalanced)
Mains Input:
Filtered IEC, switchable 110-120V, or 220-240V, fused, 12W maximum
Fuse Rating:
Anti-surge fuse 100mA 20 × 5 mm (230VAC)
Anti-surge fuse 250mA 20 × 5 mm (115VAC)

Equipment Type

RB-DA24MD:
24-way mono distribution amplifier

Physical Specification

Dimensions (Raw):
48 cm (W) x 15.8 cm (D) x 4.2 (H) (1U)
19" (W) x 6.2" (D) x 1.7" (H) (1U)
Dimensions (Boxed):
58.5 cm (W) x 27.4 cm (D) x 10.8 cm (H)
23" (W) x 10.9" (D) x 4.3" (H)
Weight:
Nett: 1.6 kg       Gross: 2.2 kg
Nett: 3.5lbs      Gross: 4.8lbs