Sonifex RB-VHCMD16
3G/HD/SD-SDI Embedder & De-Embedder 16 Channel Digital I/O

The RB-VHCMD16 is a 16-channel de-embedder and 16 channel embedder combined into a single 19-inch rack unit. The unit can selectively de-embed any channel within any audio group of an SDI video signal, to any of the digital outputs. After which, the video becomes two independent paths where the audio groups can be selectively deleted or passed through. The unit then embeds any of the digital input channels to available groups within each of the two video paths, which are then sent to the re-clocked SDI outputs.
The de-embedding and embedding channel routing is controlled via the front panel buttons and indicators. There is also LED indication for SDI input status and audio group presence.
The unit can be remote controlled via Ethernet or serial port connections using the Sonifex SCi software.
It has a triple rate SDI receiver with automatic input rate detection and equalisation, along with two re-clocked and individually buffered SDI outputs. It supports the full range of single link 3G, HD and SD standards from NTSC and PAL up to 1080p 60Hz.
Each digital input is normally sample rate converted to 48kHz before embedding, so that it is synchronous to the video input, though sample rate conversion can be bypassed on a per input basis allowing SMPTE-337M data to be embedded. All digital outputs are output at 48kHz, synchronous to the video input. There is independent level control for each digital input and output channel, which can be adjusted from -24dB to +24dB in 0.5dB steps.
The digital audio I/O connections are transformer-coupled balanced line interfaces and can be configured to be either 75ohm (AES 3ID) or 110Ω (AES 3) impedance through either a BNC or D-type connector. These connections are paralleled, allowing one type to be used per input or output.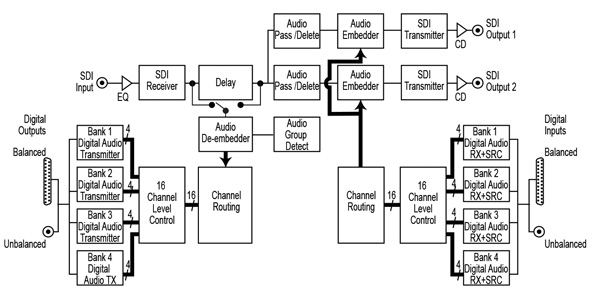 This product has settings that can be adjusted using the Sonifex SCi (Serial Control Interface) software. To download a copy of the SCi software, please use this link >
Technical Specification For RB-VHCMD16

Front Panel Controls & Indicators

Bank Select:
Bank 1, 2, 3 or 4
Bank Channel Select:
Channels 1, 2, 3 or 4
Function Select:
De-embed or embed
Group Select:
Groups 1, 2, 3 or 4
Group Channel Select:
Group channels 1,2,3 or 4
Status:
1 x SDI input status LED
2 x SDI output LEDs
4 x Audio group status LEDs

Audio Specifications

Output Sample Rate:
48kHz
Input Sample Rates:
32-192kHz, sample rate converted to 48kHz
Input & Output Impedance:
110 Ω or 75 Ω (jumper selectable)
Signal Level (unterminated):
Balanced: 3Vp-p +/- 20% Unbalanced: 2Vp-p +/- 20%
Dynamic Range:
138dB
Distortion and Noise:
≤137dB THD+N at 997Hz, ref 0dBFS
De-embed Delay:
3G/HD/SD: 330 us
SRC Input Delay:
192 kHz: 1.3 ms
96 kHz: 1.83 ms
48 kHz: 2.9 ms
Embed Delay:
SD: 600 us + SRC Input Delay
3G/HD: 300 us + SRC Input Delay

Connections

Digital Audio Outputs:
16 outputs via 8 BNCs (S/PDIF) or D-type (AES/EBU)
Digital Audio Inputs:
16 inputs via 8 BNCs (S/PDIF) or D-type (AES/EBU)
Digital Audio Connectors:
16 x BNC 2 x 25-way D-type socket
Power Supply:
Universal filtered IEC, continuously rated 85-264VAC @47-63Hz, fused, max 13W

Equipment Type

RB-VHCMD16
3G/HD/SD-SDI embedder & de- embedder 16 channel digital I/O
Common Specifications For RB-VHEMA8, RB-VHDMA8,
RB-VHCMA4 & RB-VHCMD16

SDI Specification

SDI Input:
1 x BNC, 3G/HD/SD-SDI
SDI Outputs:
2 x BNC, 3G/HD/SD-SDI, Re-clocked
Impedance:
75 Ω
Output Alignment Jitter:
<0.2UI (3G <0.3UI)
Output Level:
800mV +/- 10%
Return Loss:
<15dB at 1500MHz
SDI Supported Standards:
270Mbps, SMPTE-259M-C (SD) 1.485 or 1.4835Gbps, SMPTE-292M (HD)
2.97 or 2.967Gbps, SMPTE-424M (3G), SMPTE 425M-A
Supported Video Formats:
525/59.94 (SMPTE-125M 625/50 (ITU-R BT.656) 720p/23.98, 24, 25, 29.97, 30, 50,
59.94, 60 (SMPTE-296M) 1035i/59.94, 60 (SMPTE-260M) 1080i/50, 59.94, 60 (SMPTE-274M) 1080p/23.98, 24, 25, 50, 59.94, 60 (SMPTE-274M) 1080pSF/23.98, 24, 25, 29.97, 30 (RP-211) 1080i/50 (SMPTE-295M)1080p/50 (SMPTE-295M)
Video Delay:
SD: 290 pixels / 22 us
HD: 570 pixels / 8 us
3G: 570 pixels / 4 us
Embedded Audio:
48kHz, synchronous
SMPTE-272M-ABC
SMPTE-299M
Serial Port:
RS232, 9 way D-type
Ethernet Port:
10/100Mbps
Fuse Rating:
Anti-surge fuse 2A 20 × 5 mm

Physical Specifications

Dimensions (Raw):
48 cm (W) x 15.8 cm (D*) x 4.2 cm (H) (1U)
19" (W) x 6.2" (D*) x 1.7" (H) (1U)
Dimensions (Boxed):
59 cm (W) x 27.5 cm (D) x 11 cm (H)
23.2" (W) x 10.8" (D) x 4.3" (H)
Weight:
Nett: 1.8 kg Gross: 2.3 kg
Nett: 4.0lb Gross: 5.1lb
* Note that this product is deeper than standard Redboxes