Sonifex RB-LI2
Stereo Line Isolation Unit

The RB-LI2 stereo line isolation unit is used to isolate audio signals from inter-area ground hum loops, which could be caused by equipment being powered by different mains power supplies, or different phases on the same supply. The input and output are connected together through a transformer, which has internal jumpers allowing the outputs to be balanced about ground.
There is also a loop-through output, so that the RB-LI2 can be inserted into a line, forming a transformer balanced distribution point.
The isolated outputs can be individually adjusted using pre-set potentiometers, accessible through the rear panel. The gain range of the stereo line isolation unit is -15dB to +13.5dB (28.5dB).
This unit is useful where audio is required to be driven over a relatively long length of cable. By isolating the signal using transformers, ground loop currents that can be present in non-isolated signals, are eradicated completely.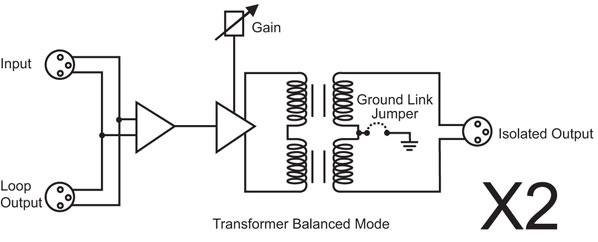 Technical Specification For RB-L12

Audio Specification

Output Impedance:
<150 Ω
Distortion:
0.5% THD @ 40Hz, ref +17dBu output
Common Mode Rejection:
<64dB typically
Frequency Response:
10Hz to 36kHz ±0.5dB
Output Gain Range:
-15dB to +13.5dB

Connections

Inputs:
2 x XLR 3 pin female (Balanced)
Isolated Outputs:
2 x XLR 3 pin male (Balanced)
Loop Outputs:
2 x XLR 3 pin male (Balanced)
Mains Input:
Filtered IEC, switchable 110-120V, or 220-240V, fused, 6W max
Fuse Rating:
Anti-surge fuse 100mA 20 × 5 mm (230VAC)
Anti-surge fuse 250mA 20 × 5 mm (115VAC)

Equipment Type

RB-L12:
Stereo line isolation unit

Physical Specification

Dimensions (Raw):
28 cm (W) x 10.8 cm (D) x 4.2 cm (H) (1U)
11" (W) x 4.3" (D) x 1.7" (H) (1U)
Dimensions (Boxed):
36 cm (W) x 20.5 cm (D) x 6 cm (H)
14.2" (W) x 8" (D) x 2.4" (H)
Weight:
Nett: 1.1 kg Gross: 1.5 kg
Nett: 2.4lbs Gross: 3.3lbs