Sonifex RB-DDA6A3
6 Way Stereo AES-3id Digital Audio Distribution Amplifier

The RB-DDA6A3 digital distribution amplifier is used for distributing AES-3id digital audio, repeating both the audio data and the status information of the input whilst re-normalising to standard digital audio levels. It has a single BNC AES-3id audio input, which is distributed to 6 BNC AES-3id audio outputs.
Applications include distributing audio from a Blu-ray player to recorders, or feeding multiple studios with an output from a master clock.
It can accept input sample rates in the range of 30kHz – 100kHz, and bit rates of 16, 20 and 24 bit.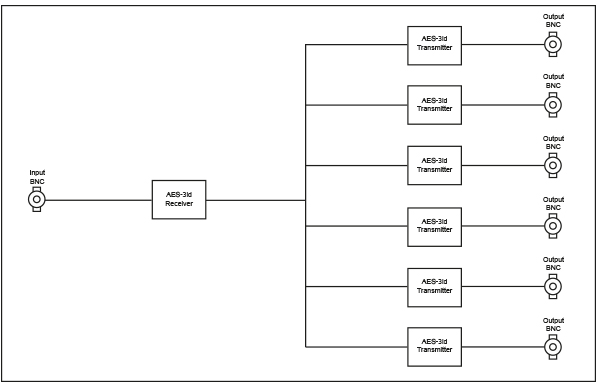 Technical Specification For RB-DDA6A3

Audio Specification

Input impedance:
75 Ω
Output impedance:
75 Ω
Sample Freq Range:
30-100kHz (i.e. including 32kHz, 44.1kHz, 48kHz, 64kHz, 88.2kHz & 96kHz)
Signal Level:
1V ±20% peak to peak (output 1.17V to drive long cable lengths)

Connections

Inputs:
1 x BNC female
Outputs:
6 x BNC female
Mains Input:
Filtered IEC, switchable 110-120V, or 220-240V, fused, 6W max
Fuse Rating:
Anti-surge fuse 100mA 20 × 5 mm (230VAC)
Anti-surge fuse 250mA 20 × 5 mm (115VAC)

Equipment Type

RB-DDA6A3:
6 way stereo AES-3id digital audio distribution amplifier

Physical Specification

Dimensions (Raw):
28 cm (W) x 10.8 cm (D) x 4.2 cm (H) (1U)
11" (W) x 4.3" (D) x 1.7" (H) (1U)
Dimensions (Boxed):
36 cm (W) x 20.5 cm (D) x 6 cm (H)
14.2" (W) x 8" (D) x 2.4" (H)
Weight:
Nett: 0.95 kg Gross: 1.4 kg
Nett: 2.1lbs   Gross: 3.2lbs