Sonifex PC-RACK4D
Rack mount PC With Front Panel Display
Sonifex can supply industrial rack mount PCs to run the PC-FLS8 Flashlog logging software.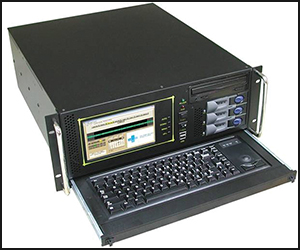 This is a rugged industrial 4U rack mount PC to run the PC-FLS8 Flashlog 8 software, which has a front panel LCD with a pull-out drawer for the keyboard and mouse. So, it's completely self-contained and useful for secure logging environments. It has dual power supplies, 4 x PCI slots and 8 x PCIe slots. It uses an Intel i7 processor, has 8 GB RAM, runs Windows 10 Professional and uses a reliable battery-backed Adaptec SATA RAID with 3 × 2 TB Enterprise HDD. Finally, there is also a DVD-RW drive.
The 8 x PCIe slots allow this PC to be fitted with multiple PC-AD2, PC-DIG4, PC-AUR44, PC-FM, PC-AM and PC-DAB cards to produce a very powerful audio and radio capture logger.