Solidyne MX2100
The MX2100 is the only portable console on the world market that offers:
Audio Compressor with AGC
USB digital input/output connection
Equalization for use with VQR
Bluetooth communication with cell phones
This makes a great sound! Listen to the audio demos.
The console operates Full Duplex (transmission and return of studies). It incorporates amplifiers for use with 3 headphones. Handles 4 microphone inputs; 3 external dynamic MICs; plus 1 internal MIC for quick reports. The preamps are non-saturable (even if they scream a goal…) due to the use of technology:   local feedback,    exclusive to Solidyne.
Includes telephone hybrid for connection to conventional telephone line (POT line) and DTMF keyboard to generate calls.
The console weighs just 600 grams due to its duralumin cabinet.
Cell phones are the most modern
communication technology man has ever invented.
Digital connection to your cell phone or Netbook
Solidyne's new proposal
That's why at Solidyne we think: If all the radios already have cell phones… Why not use them in outdoor broadcasts? Why not create a digital mini-console for cell phones and Notebooks instead of the expensive "standalone consoles" that are worth more than $2,000 dollars?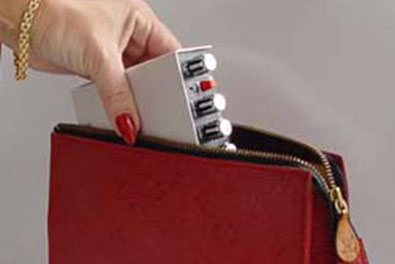 And we also wonder: why do portable console manufacturers offer large and heavy units, whose sound in the air sounds unpleasant and piped?
Solidyne innovation has solved ALL of these limitations.
Your star journalists will be delighted to have an MX2100 that allows you to always carry it with you… even in a bag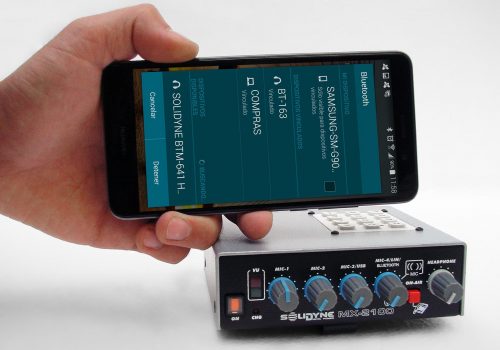 The console is almost as small as your cell phone; no one offers you this technology. It uses ultra-low power CMOS (like NASA spacecraft) amplifiers to provide 16 hours of operation. USB connections for Notebook and Bluetooth 4.0 (high fidelity) for cell phones.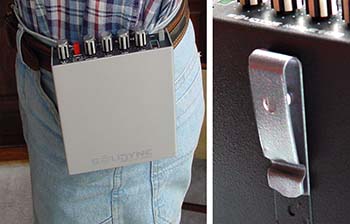 A steel bracket allows the console to be worn from the waist.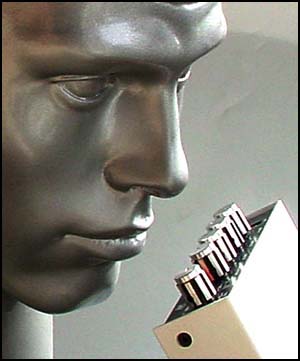 Can be spoken directly into the internal microphone for quick outdoor broadcasting
The level adjustment is very simple to use, using a two-color display. Well, the MX2100 uses a compressor with AGC to always maintain an exact output level. No other portable console offers this facility.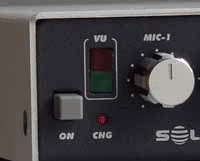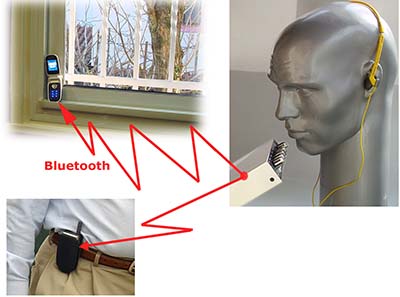 The MX2100 has a wireless Bluetooth link that allows you to keep your cell phone in your pocket or near a window for better reception.
Do you know what Bluetooth is?
Bluetooth is a wireless link that cell phones have to connect with accessories to speak "hands free" It has a range of 10 meters. The audio quality is much higher because the 2.4 GHz Bluetooth link is DIGITAL and the MX2100 uses the Bluetooth 4.0 standard that allows playback from 30 to 8,000 Hz; full range of voice.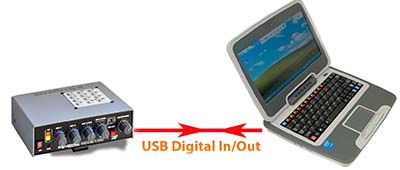 The MX2100 has a direct DIGITAL connection,
via USB to a Notebook
This allows you to transmit over the Internet using a 3G/4G modem with full duplex Skype, without delay, with high voice quality or by MP3/AAC streaming.
NO additional studio equipment required; Broadcasting from outside enters as streaming on any PC you have in your studios
Communication with full-duplex Studios from anywhere in the world
The MX2100 can connect with a smartphone using Bluetooth 4.0 with high-quality audio. Through SKYPE or WhatsApp we connect DIGITALLY and free of charge with the Studios. We will have a return instantly, without delay, to make reports with the studio journalists. Very simple to operate.
No other console offers you this quality of sound.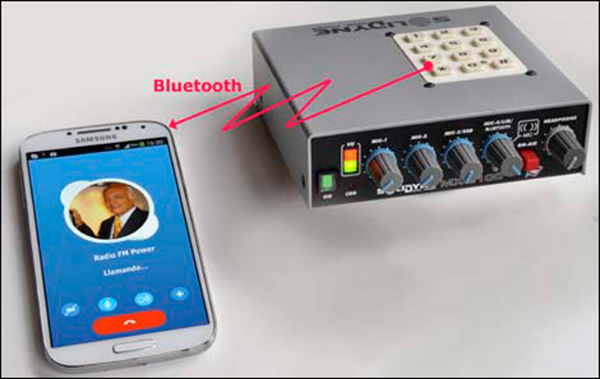 Connections with Auto Routing to eliminate operation errors
The MX2100 offers the largest variety of modes of operation on the market. Any outdoor transmission, even the most complex, is efficiently handled by the MX2100.
Despite this, its control panel is very simple to operate; no need for switching keys to manage the signal path.
This enormous simplicity is due to the automatic switching system Auto Routing. This Solidyne creation enables the MX2100 to instantly switch its internal switches for routing audio signals when plugging in microphone, headphone and associated equipment cables.
Added to this is the internal AGC audio compressor, which is another automatic system that simplifies operation and makes the MX2100 unique.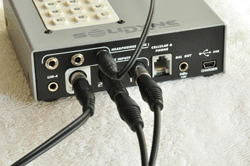 DIGITAL transmission from Stadiums with Virtual Studio
Full management of your radio from a Stadium or a music show, Even without operators in your studios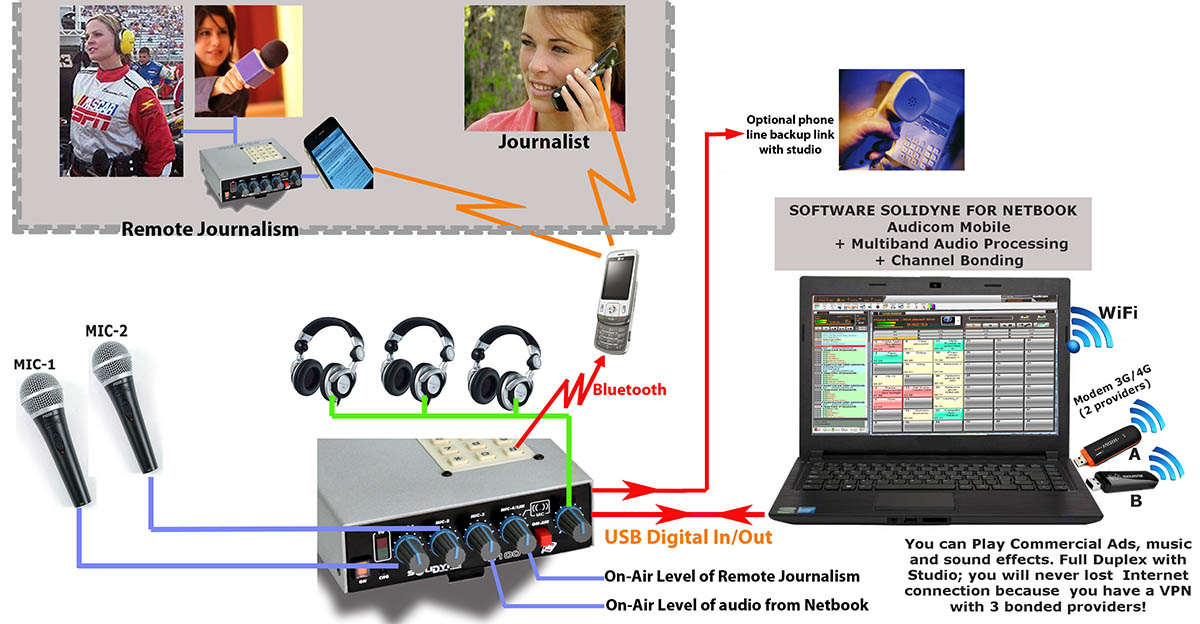 The MX2100 is truly a "little giant" A unique product on the world market. You can manage THREE microphones and add commercials, background music and special effects from a Notebook equipped with Audicom Mobile . All at low cost. You can even manage 2 local microphones plus another 4 remote ones in a Virtual Studio with another MX2100, to make reports in dressing rooms or theatre dressing rooms.
Work connected FULL Duplex without audible delay with Studios. With digital sound quality. It will have the deep bass of the human voice and the sparkling highs. Say goodbye to the "tube" sound of other consoles. Both remote journalists and journalists in the Studios will be able to conduct questions and interviews.
You will also be able to transmit streaming with a Showcast or Icecast server, which, although it adds delay, is not important since during the transmission both the commercial announcements and the musical curtains are generated in the stadium itself, allowing journalists to work outdoors without the need for stay in studies
Nor is it a problem that the Internet is slow because using channel bonding  software this allows ADDING to the speed of the WiFi connection that of one or two 3G/4G providers, consolidating all the power of Internet access and creating a VPN with your study. You will never have speed issues. With the MX2100, you definitely enter the universe of digital outdoor broadcasts. With a VERY SIMPLE operation that your journalists will appreciate.
But let's not forget about the old days either… as the MX2100 also gives you a phone hybrid to landline connect to studios in case of emergency.