Solidyne HL202
HL 202 2, 4 and 6 line hybrid
Solidyne automated hybrid that operates with only three buttons

Model Photo HL202 (2 lines)
The phone hybrid HL-202 controls two telephone or cell phone lines, Two or three HL202 units can be linked to handle four or six phone / cell lines. These units summarize our experience of 45 years in the manufacture of telephone hybrids for broadcasting.
This results in a system where the excellence is set in the design, facilitating the work of the operator. HL-202 has sending and receiving audio limiters and compressors, as well as band-pass filters to automatically adjust levels and avoid saturation of telephone lines that often occur with other hybrid brands.
They can operate with any console model. The cabinet has optional rack ears, so they can be rack mounted or operated on a table. Rejection exceeds 40 dB Then the audio quality on air is so good that amazes your audience.

Rear panel. You can see the LINK connector to increase the number of lines, without changing the existing HL-202.
Each line allows you to set the exact line balance. It is adjusted only at the installation. A recording output allows you to use the hybrid without a console.
Each line accepts an auxiliary phone set usually associated to Production for attending income calls. When lines are on Hold the auxiliary phone set is disconnected.
Unlike other brands, this hybrid offers 8 dB cross gain to compensate the losses of the lines. This allows for excellent conference levels between different callers.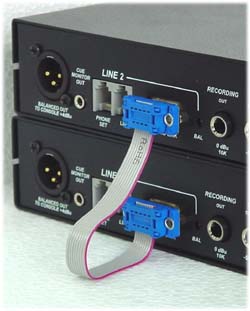 Two or three hybrids can join with a connection
LINK to add up telephone lines or cellular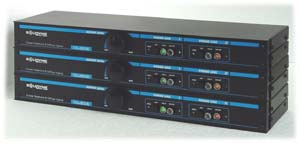 Operation can be obtained with 4 or 6 or telephone lines
Keypads have buttons illuminated by light reflection of high visibility for error free operation.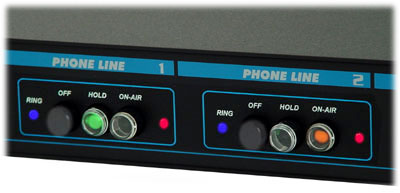 A Red LED flashes when line is on hold The blue LED indicates the line is calling
Hybrids allow you to enter either POT telephone lines or wired cell phones. The hybrid recognizes the different inputs and is automatically configured to operate in two wires (line TF) or 4-wire (cell)
Connecting active speakers at the CUE monitor output of HL-202 , the operator can always listen to telephone lines when they are on hold. For example, if you have lines 3 and 4 On-Air. Journalists that are waiting for News at lines 1 and 2 are monitored by the operator. When they get News, can speak with the operator and be heard immediately.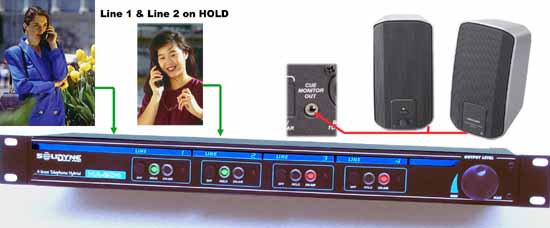 * 2, 4 and 6 lines or cell conference
* 40 dB rejection of local signal
* Easy operation with only 3 buttons
* Output to console, with audio levelling, balanced +4 dBu
* Phone line send level automatically set to 0 dBu
* Line send with bandpass filters to improve local rejection
* Gain 8 dB cross between the lines to level the entire conference
*Reflective push-button caps
* Transformer balanced floating phone line to cancel hum
* Lightning protection using SIOV technology
* High-quality audio in the air, without colouration of the local signal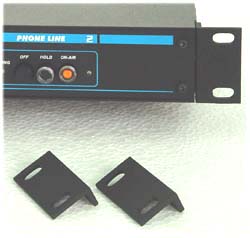 Removable side ears
The Hybrid can be used on a table
or rack mounted, it has removable side and
self-adhesive rubber legs