Sonifex RM-2S10
Reference Monitor, 2 LED Meters & 10 Stereo Channel Inputs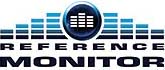 The RM-2S10 is a 1U rack-mount unit offering quality loudspeaker monitoring and accurate, high-resolution metering of up to twenty both analogue and digital stereo audio sources and more with the addition of optional expansion cards. Sources may be in any mixture of analogue and AES/EBU digital formats, with sample rates up to 192kHz accepted.
The RM-2S10 has 10 separate analogue and digital inputs. Analogue inputs can be balanced or unbalanced in any combination. The digital inputs have switchable AES/EBU termination for (close-range) bridging operation, and there is extra global input gain available for both analogue and digital low-level sources.
Sources (and additional banks of sources, if fitted) are selected via a front panel rotary encoder, with clear LED indication of the current selection. On the RM-2S10, the Source LEDs also act as signal present indicators. A pair of line-level audio outputs, configurable as analogue or AES/EBU digital, follow the selected source at either a fixed level or one mirroring the loudspeaker volume.
The level of the chosen source is displayed on a pair of bright, multicoloured 53-segment bar graph meters, with a choice of seven accurately modelled scales/responses to suit different applications and local preferences. Clear scale labels are provided for you to choose the scale displayed, and the meter brightness can be adjusted from the front panel. A separate phase meter indicates channel correlation or phase error conditions. On the rear panel, open-collector alarm outputs provide hardware indication of sustained under-level, over-level, phase errors and digital source lock.
Six illuminated push-buttons provide access to a range of audio 'modifiers' – instant dimming of the volume, individual muting of each audio channel, stereo-to-mono conversion, phase inversion and Middle+Side transcoding. On the rear panel, logic-level inputs allow direct remote access to the DIM and MUTE functions.
The three-way loudspeaker system is fed via a DSP-based active crossover and a trio of highly efficient Class-D amplifiers. Careful attention to driver selection, materials and case design, plus active DSP equalisation, has ensured a flat response and outstanding reproduction from such a shallow unit. A protective limiter prevents damage to the loudspeakers under overload conditions, and the front-panel headphone socket automatically mutes the internal loudspeakers when a plug is inserted. A Balance control allows you to alter the stereo imaging of the left and right channels.
A further five-band parametric equaliser can be accessed for room-equalisation purposes via Sonifex SCi Windows-based remote control software. Source selection, status monitoring and unit ID functions, plus firmware updates to add extra functionality, are all accessible remotely via both USB and RS232 connections in conjunction with Sonifex SCi software. The open control protocol also allows operation with terminal programs or customised applications.
An optional addition to the RM-2S10 is an HD video input expansion card, allowing multiple AES groups embedded within an HD-SDI or SD-SDI signal to be de-embedded and monitored (RM-HD1). The RM-2S10 unit operate from global mains voltages (85-264V AC, 47-63Hz) without adjustment.

This product has settings that can be adjusted using the Sonifex SCi (Serial Control Interface) software. To download a copy of the SCi software, please use this link >
SCi Screens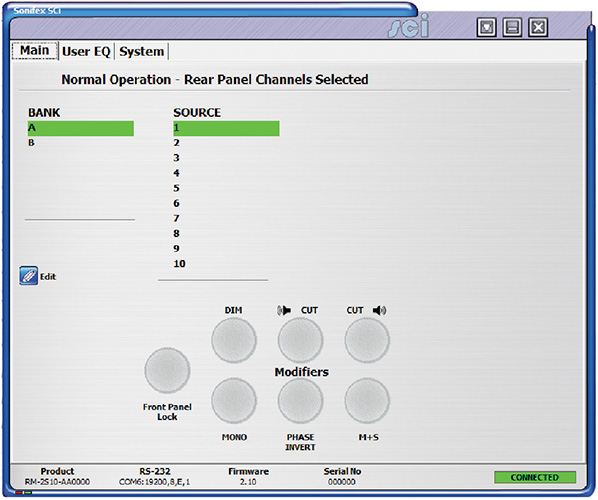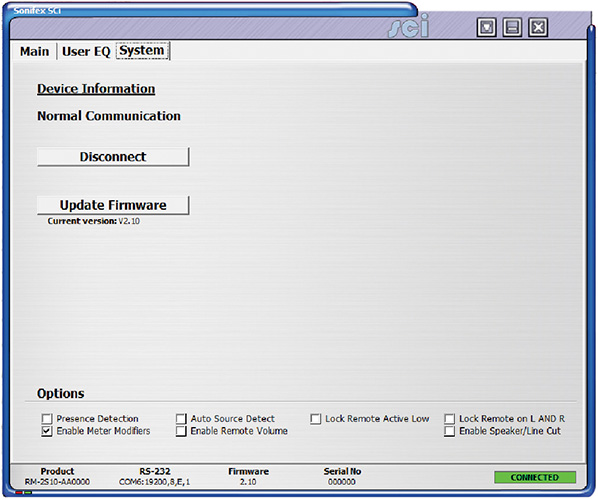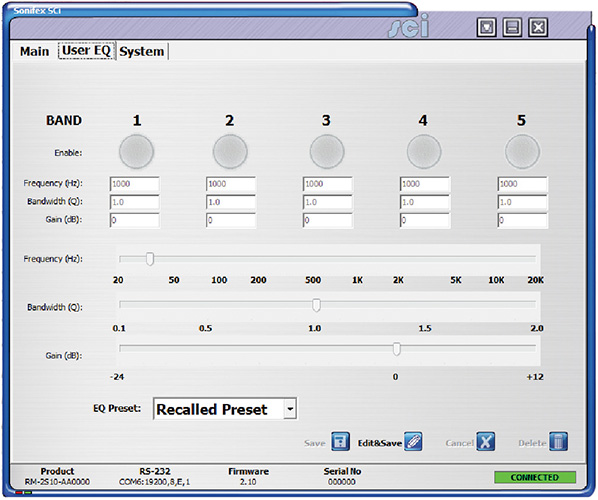 Technical Specification For RM-2S10

Inputs

Audio Inputs
10 x stereo analogue plus 10 x stereo AES/ EBU digital
Max level (0dB input gain):
+18dBu (analogue)/0dBFS (digital)
CMRR:
>60dB typical
Input Impedance:
20 kΩ (analogue) 110 Ω (digital with termination switchable)
AES/EBU Sample Rate:
32 to 192kHz, converted internally to 48kHz
Input Gain:
0, +6, +12 or +18dB digital gain (switchable)
Selection:
Front panel rotary control with indicator LEDs

Line Level Outputs

Audio Outputs:
1 x stereo analogue or AES/EBU digital (switchable)
Gain re Selected Input:
Unity or variable, following volume control (switchable)
Maximum Output Level:
+18dBu (analogue)/0dBFS (digital)
Output Impedance:
<50 Ω (analogue)/110 Ω (digital)
AES/EBU Sample Rate:
48kHz
Distortion:
<0.02% (1kHz, +8dBu output)
Noise:
-84dB RMS, unity gain ref +8dBu output
Frequency Response:
20Hz-20kHz +0/-0.5dB
Crosstalk
1kHz input:
10kHz input:
Analogue I/O, ref 0dBu
≤90dB
≤85dB

Audio Modifiers

Modifier Selection:
Illuminated front panel push-buttons
DIM:
Reduces speaker audio level by 10dB
CUT L & CUT R:
Mutes left/right speaker audio
MONO:
Combines left and right audio inputs
PHASE INVERT:
Inverts phase of right audio input
M+S:
Converts stereo input to Middle (sum) and Side (difference) signals

User-Variable Equalisation

Type:
Parametric
Bands:
Five
Centre Frequency:
200Hz to 18kHz
Bandwidth:
0.25 to 2 octaves
Boost/Cut:
±12dB
Programming:
Via USB/serial control port

Amplifier/Loudspeakers

Configuration:
Three-way with stereo mid/ high-frequency drivers & mono low-frequency driver
Power Output:
2 × 5W (HF) + 20W (LF) with protective limiter
Crossover:
500Hz (3rd order Butterworth)
Distortion (HF Outputs):
< 0.05% (1kHz, 3W output)
Distortion (LF Output):
< 0.05% (100Hz, 6W output)
Noise:
More than 80dB below full output
Volume:
Mute to full volume via front panel rotary control
Balance Trim:
±6dB via front panel rotary control
Peak Acoustic Level:
102dB SPL @ 2ft

Level Metering

Number:
2 x 26-segment tricolour LED bar graphs
Characteristics:
Selectable by switch from:
1. Dual BBC PPM + standard VU
2. BBC PPM
3. EBU PPM
4. Nordic PPM
5. AES/EBU digital PPM
6. DIN PPM
7. Standard VU
8. Extended VU.
Ballistics:
According to selected characteristic
Line-Up Level:
According to selected characteristic

Phase Metering

Type:
5-segment, indication at 0, 45, 90, 135 and 180 degrees

Remote Control

USB:
Slave device, 19200 baud
Serial:
RS232, 19200 baud, 3-wire connection
Alarm Outputs:
1. Audio under-level/fail (latching)
2. Audio over-level (latching)
3. Sustained phase error (latching)
4. AES/EBU input unlock (non-latching)
Open-collector outputs rated at 30V,
50mA maximum
Output low/conducting in normal condition (no alarm)
Control Inputs:
1. Mute audio
2. Dim audio
3. Alarm reset
Pull-to-ground to activate inputs.

Status Indicators

LIMIT:
Indicates loudspeaker protection limiter is active.
CLIP:
Indicates internal digital clipping due to over level.
LOCK:
Indicates lock achieved on selected digital input(s).
OPT:
For future use.

Connectors

Audio Inputs:
3 x D-type 25-pin female (balanced, may be unbalanced)
Audio Outputs:
2 x XLR 3-pin male (balanced, may be unbalanced)
Headphones:
1/4" (6.35 mm) A-gauge 3-pole stereo jack socket
USB:
Type B socket
Serial:
D-sub 9-pin female
Remote I/O:
D-sub 15-pin male
Mains Input:
Filtered 3-pin IEC male, continuously rated 85 – 264VAC, 47 – 63Hz, fused, 60W peak, 30W average
Fuse Rating:
Anti-surge fuse 2A 20 × 5 mm

Equipment Type

RM-2S10:
Reference Monitor, 2 LED meters, 10 stereo channel inputs

Physical Specification

Dimensions (Raw):
48 cm (W) x 30.5 cm (D) x 4.4 cm (H) (1U)
19" (W) x 12" (D) x 1.73" (H) (1U)
Dimensions (Boxed):
57 cm (W) x 52 cm (D) x15cm (H)
22.4" (W) x 20.5" (D) x 5.9" (H)
Weight:
Nett: 4.5 kg Gross: 6 kg
Nett: 10lb   Gross: 13.2lb

Options

RM-HD1:
3G/HD/SD-SDI expansion card